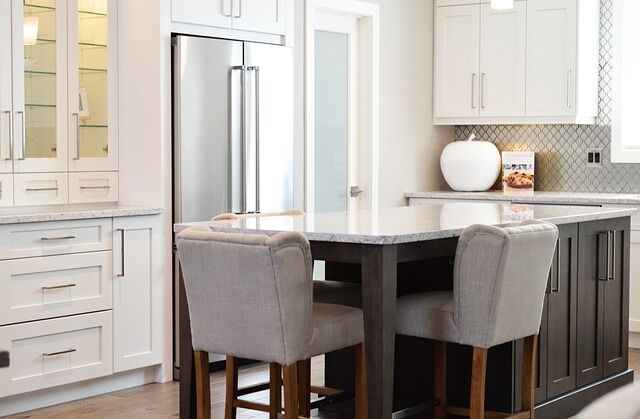 Spring has sprung, and it's time to make your kitchen sing!
This season brings with this a fresh wave of inspiration for homeowners looking to breathe new life into their premises. However, the mere thought of diving headfirst into a major home improvement project can be overwhelming and potentially expensive. Fortunately, there are numerous ways to revitalize your dwellings without spending a fortune or tuning your living space into a chaotic living space.
If your kitchen is in need of a facelift, do not fret as there are plenty of pocket-friendly ways to not only upgrade your culinary haven but also lend it your personality and make a bold statement. That said, here are some great tips for making a resounding impact without the hassle of a complete overhaul.
Add a Splash of Color
One quick and simple way to achieve a captivating transformation is by injecting a vibrant burst of colour. Fortunately, there are many approaches you can take to do it. If you have a certain hue in mind that you would want to incorporate into your cooking space, here are a few suggestions worth considering:
Create a Feature Wall: The simple act of giving a single wall a new colour can completely transform a space. You can either paint the wall or adorn it with a captivating feature wallpaper or wall art. This focal point will immediately enliven the space and act as a captivating backdrop for your culinary adventures.
Repaint the Cabinets: Next, consider repainting the cabinets or giving the current doors a new colour. Whether you opt for a uniform colour scheme or decide to mix and match, this approach will certainly revitalize your kitchen's aesthetic.
Install Open Shelving: You can also bring your kitchen walls to life using open shelving. It presents a great way to showcase special items or tell a unique story. Just remember to keep the shelves neat and avoid clutter. This simple addition will not only add a vibrant splash of colour to your kitchen but also create an interesting focal point that captures people's attention.
Add a Small Item: If you have the space, consider adding a small piece of colourful furniture to your kitchen. This could be a chest of drawers, a chair, or even a rug. In addition to being functional, these items can help brighten up the space. You may be interested in taking a look at designer kitchen cabinets.
Accessorize: You can also elevate your kitchen's style by accessorizing. The beauty lies in the versatility of accessories, as you can switch themes whenever you please. Enhance your kitchen's visual impact by incorporating colourful rugs, cushions, curtains, wall art, blinds or tableware that align with your desired statement. For a polished touch, you may want to consider a marble floor.
Replace the Kitchen Worktops
In addition to adding vibrant colours, replacing your kitchen worktops is another efficient and impactful method to swiftly transform your kitchen. With a wide array of stunning options in the market, you can pick from varying colours and finishes, allowing for seamless coordination and contrasts with other elements of the kitchen.
Even if you do not alter anything else, the introduction of new worktops can entirely reshape the look of your kitchen—a brilliant strategy for an effortless kitchen update that yields impressive results.
Update the Kitchen Appliances
Revamping several of your small kitchen appliances presents a speedy and uncomplicated way to create a striking difference in your cooking space.
The Takeaway
From adding a splash of colour to replacing worktops and updating small appliances, these simple but effective ideas can certainly turn your kitchen into a culinary paradise this spring.